Learn More About Celtic Hammer Club
Celtic Hammer Club is the brand name for a collection of Celtic and Norse Style artwork created by Doug Cavanaugh. Doug began to build the Celtic Hammer Club brand in his youth when a fascination of history and a passion for drawing led him down a path of exploring Celtic and Norse style artwork. While Celtic and Norse style art share some similarities, Doug's vision was to bring the styles together into one collective that uses elements from both Celtic and Germanic origins.
Doug's work is mostly inspired by mythology and legendary characters from history. Rarely will you see a piece of Doug's work that isn't a depiction or reflection of something deeper or historical. In his work you will see characters like Fenrir, the father of all wolves from Norse mythology, and Cú Chulainn, the famous mythological Irish warrior. Often there is more than one character hidden in the intricacies of the knotwork in his artwork.
Doug started by posting his artwork online for sale mostly for print on apparel. Since then, Celtic Hammer Club has grown and collaborates with artists with other skill sets to bring the Celtic Hammer Club collective to life on leather accessories, drinking horns, and more. Doug takes pride in the fact that his wares are one of a kind, original works. Celtic Hammer Club doesn't sell massed produced items with generic artwork on it.
Celtic Hammer Club started its journey from strictly online sales to vending at shows and festivals in 2017. Since then Celtic Hammer Club has been adding events to its calendar attending shows mostly in Doug's native Pennsylvania and neighboring New Jersey.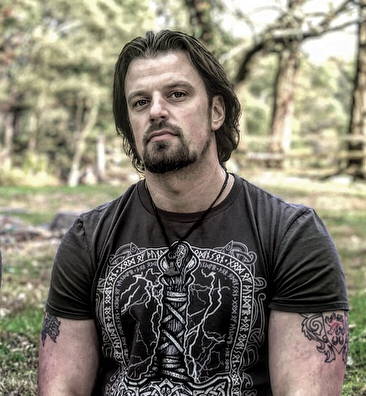 I grew up in Hunterdon County, New Jersey, but I have made my home in Upper Bucks County Pennsylvania for the last decade.
The story of how I came to build this brand I dubbed "Celtic Hammer Club" starts in my youth when I began to take an interest in who I was, where I came from, who were the people that came before me, etc. That led me down a path where I began to learn about my ancestors who hailed mostly from Ireland and Germany, but generally all across the Northern European landscape. The more I learned, the more a became fascinated with the history, mythology, folklore, and culture of those who came before me.
From my earliest childhood, I loved to draw. It was no different when I became fascinated with Celtic and Norse/Germanic history in my young adulthood. I have spent the better part of two decades learning and practicing the complicated knotwork and spiral patterns that were common across the Celtic and Nordic cultures.
I do my best to keep up with demand, but I am just a regular guy with a full time job. If I'm sold out of anything, I would ask that you be patient until I manage to build up my inventories again. I hope to keep experimenting and coming up with new stuff, so I appreciate your patience as I play around and do my thing!
Celtic Hammer Club on Social Media