Learn More About R.E. Piland Goldsmiths
R. E. Piland Goldsmiths began in 1993, shortly after the birth of two red-haired children led Rob and Liz to explore their family trees. Rob fell in love with the Celtic art form as a cleaner structure of the free-flowing spirit in art nouveau jewelry he had explored in the past.
All our jewelry is produced in our studio with one Journeyman and one Apprentice goldsmith assisting Rob in the casting and finishing work. We produce two lines of jewelry: Limited Editions and Custom One of a Kind. Limited Edition jewelry is produced for 2-3 years in sterling silver and/or 14kt gold in a selection of gemstones using Rob's models and molds. Custom One of a Kind jewelry is hand made without molds by Rob for retail sale or as commission orders from clients.
Our beautiful silver and gold Celtic jewelry pieces are each handmade and crafted according to a strict code of traditional craftsmanship. It is our sincere hope that you find a lifetime of beauty in our creations.
R E Piland Goldsmiths have been exhibiting at Scottish games & Irish festivals, Renaissance & Colonial Fairs, and some arts & crafts shows since 1993. We have shared our limited-edition jewelry with clients along the Atlantic Coast from New York to Georgia. We average 20-22 events per year, enjoying music, laughter, and art with our many clients who have become friends.
Liz knew the importance of craftsmanship growing up in a family where her mother and grandmother clothed the family and decorated their homes with through fiber arts skills. Her father was a machinist, and her grandfather, an engineer, retired to woodworking. Liz attended two years of college, then went to work in mortgage banking and law offices. She completed her BS in Computer Science and entered the field of information technology. When Liz decided she wanted a special piece of jewelry for herself, a friend directed her to Rob as the best goldsmith in the area. From that project, a family grew.
Liz left the corporate business world to apply her education and skills helping Rob grow their own business. In the early years, she worked in the shop with Rob achieving apprentice-level skills. Today she spends most of her time in the administration of R. E. Piland Goldsmiths.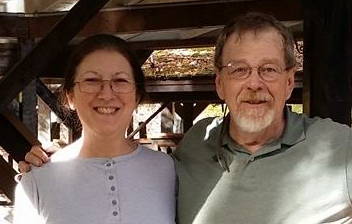 Rob's fascination with the jeweler's art began when his family lived in Japan. At thirteen, he discovered a small goldsmith's shop in Yamatocho and spent hours watching as beautiful pieces - rings, bracelets, pins - formed under the master's hands. After his own discharge from the military, Rob began what was to be his life's work. A European-style apprenticeship with an immigrant German goldsmith began in 1969. His Master insisted that Rob become a mechanic rather than an artist. Years later Rob finally understood what this meant, "If you work to become a master mechanic, learning your tools and your metals, your art will flow from it."
Rob worked for many of the country's major jewelry stores becoming a Journeyman and finally, Master Goldsmith. In the 1980's he owned his own store, but discovered he wasn't creating his own art. Rob now works out of his home-based studio and sells his art at craft, Celtic, and Renaissance fairs as well as online. Rob's motto: "I have not yet made my best piece, and I hope I never do."
R.E. Piland Goldsmiths on Social Media