Learn More About Shamrock Chic
Shamrock Chic has been in business for over a decade and Life's a Stitch Embroidery for nearly 25 years. Based in Western New York in Hamburg, we proudly serve customers throughout the country.
​Whether you know us for selling our beautiful clothes and accessories at your local Irish Festival, or your business/organization has professional logo services done
with us, we are proud to serve you.
Marjorie Corrow has a bachelor's degree from the University of Vermont in Clothing, Textiles & Design. She brings her color sense and creativity to all that she produces for festivals in big, bold, impressive displays. Very early on in her venture with Shamrock Chic, her company was accepted immediately, without a waiting list, to the country's largest festivals, which is a true honor. Featuring professional items for women and men in a wide range of sizes, rather than just Tee shirts and hoodies has contributed to Shamrock Chic's success and loyalty from happy customers.
Shamrock Chic offers beautifully embroidered, fashion-forward apparel with matching accessories and has been a vendor in the Celtic and Irish festival circuit for 12 years, at the country's largest events.
Featured Products
Save 10% at Shamrock Chic with Coupon Code CFO10off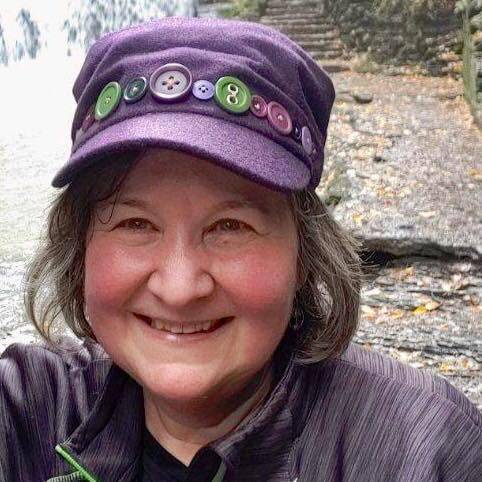 Marjorie Corrow, the owner of Shamrock Chic, Life's a Stitch Embroidery and The Braider's Circle has wanted to be in business since the age of 8. From the time she went door to door in her childhood neighborhood selling loop potholders on a home-made wooden rack, she was hooked on being in business! And, those were not randomly made designs on the potholders, either. Unusual color combos and plaids, displayed on a rack she carried. Even at a young age, she knew color and display were key components to success.
Her embroidery business grew out of first working for and substantially growing her boss' business, then she ventured out on her own, as a single parent with two young daughters, to begin her dream of self-employment. First with bibs and children's clothing at craft shows, then commercial embroidery with her own loyal accounts. After 10 years, she had a complete turnabout into Celtic and Irish designs sold at the country's largest festivals. She has also created a line of LGBTQ apparel, has operated seasonal and year-round stores in 5 different malls, and has had a 45-year love of rug braiding: teaching classes and transforming her recycled wool clothing items into rugs, baskets, pet beds, and hats for sale.
Shamrock Chic on Social Media & Etsy