Learn More About The Black Donnellys
The Black Donnellys is a highly-regarded and Guinness World Record-breaking band from Dublin. Currently based in Las Vegas, The Black Donnellys are resident musicians at Rí Rá Irish Pub at Mandalay Bay Resort and Casino, located on the infamous Las Vegas Strip. The band consists of award-winning singer/songwriter Dave Rooney, and Guinness World Record-breaking guitarist Dave Browne.
Since arriving in America just under five years ago, The Black Donnellys have established a great fan base throughout the United States with their energetic live performances. Members of renowned bands such as Santana, Heart and a host of TV stars and celebrities have been known to join The Black Donnellys on stage at their residency gig in Las Vegas.
The Black Donnellys Live on the Celtic Festival Online Virtual Music Stage
October 10, 2020 | CFO All-Day Virtual Festival
Support Our Featured Musicians
The talent, dedication, and spectacular performances by the musicians featured on Celtic Festival Online is beyond appreciated. We encourage you to support these amazing artists. If you are so inclined to "thank" them as they perform virtually for your Celtic listening pleasure, here's a link:
An Irish Story: This Is My Home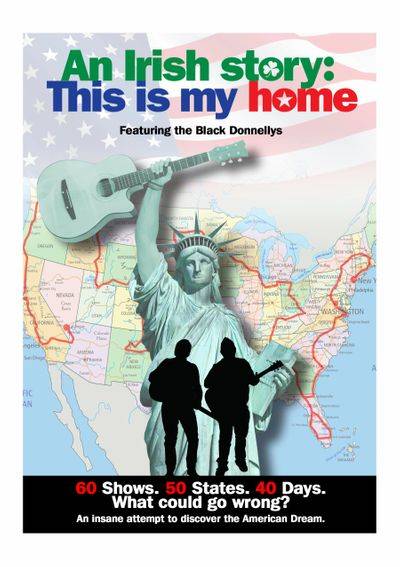 An Irish Story: This is My Home is a documentary feature film following The Black Donnellys in their pursuit of the American Dream and adventure to set a Guinness World Record, playing 60 shows in all 50 US states in just 40 days.
Along the way, they focused our conversations with people across the United States, what the 'American Dream' means from an immigrant's perspective, and how music connects people in their travels.
Get ready for an emotional ride that tours America in record time. Laughter, original music and heart fill this film from start to finish. Take a dive into Irish history and how immigrants today are making America a better place. It will leave you wanting more!
Available on Apple, Amazon, Vimeo, Google Play, Watch Now, FandangoNow, Vudu, Microsoft Xbox.
The Black Donnellys on Social Media & Streaming