Learn More About Triskele
Triskele, [pronounced Tris-Kay-lee] is the premier all~female Celtic band out of Albany NY. They are known for their stunning harmonies, singing in the Gaelic language and for their Irish wit. Noeleen, who grew up in Dublin and is the youngest of 16, taught Sharon and Jenn the Gaelic language through song.
These ladies perform, primarily, traditionalCeltic/Irish music, but also have written originals. Triskele not only revitalizes the Gaelic language, but weaves history and traditions about growing up in Ireland. This gives the listener a deeper appreciation and understanding of Irish/Celtic history.
The element that makes Triskele unique is that traditionally, Celtic music has been primarily sung by men. Triskele has overcome the obstacles and stereotypes through song. They have gained fans and supporters with their ability to keep traditional songs traditional. Fans have stated that they enjoy hearing songs sung with the unique qualities of the female voice; given the timbre and rich, clear harmonies.
Not only can these ladies sing but they are also multi-instrumentalists. Instrumentation includes, 12- string and 6-string guitar, mandolin, Bodhran, flute, whistles and various percussion instruments.
Discography: Triskele released their third CD (2017) "Triskele: The Collar City Uprising", which is a live recording. The recording took place at the world-famous Troy Savings Bank Music Hall in Troy, NY. Their second CD, "TRISKELE LIVE", was released in June of 2015. Their premier CD came out in late 2010, "Look Back, Don't Stare".
Triskele has been performing in the Celtic music scene since 2009 and has performed in a variety of venues; from world-famous Troy Savings Bank Music Hall in Troy, NY to Caffe Lena & The Parting Glass Pub in Saratoga Springs, NY. The Fringe Festival in Rochester, NY , Peoria Erin Feis, Peoria Il, to The Mercantile Pub in Dublin and The Clifden Arts Festival in Ireland. Triskele has been invited and performed in various Celtic/Irish music festivals around the region and the world. Triskele performs approximately 40 times/year.
Triskele Live on the Celtic Festival Online Virtual Music Stage

Support Our Featured Musicians
The talent, dedication, and spectacular performances by the musicians featured on Celtic Festival Online is beyond appreciated. We encourage you to support these amazing artists. If you are so inclined to "thank" them as they perform virtually for your Celtic listening pleasure, here's a link: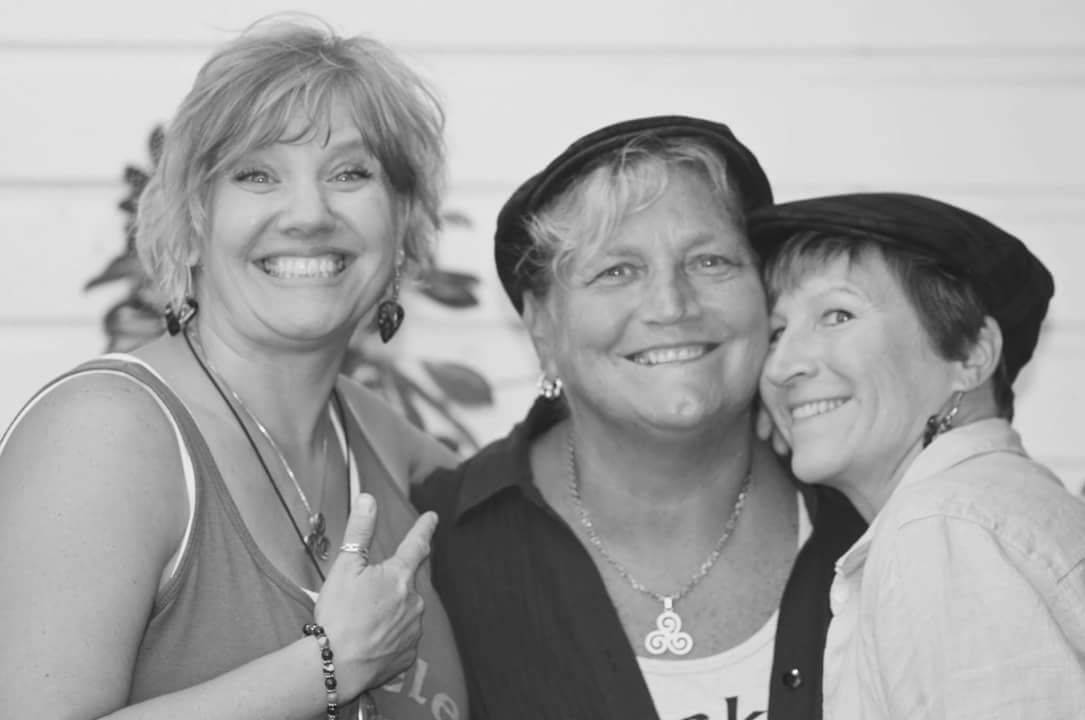 Jenn can be found with a guitar strapped to her back strolling into pediatric patient's rooms or into special education classrooms by day. As a Certified Music therapist, Jenn is a multi-instrumentalist. Originally from Rochester, NY she's performed flute in churches and numerous ensembles and studied privately at The Eastman School of Music. Triskele fans know her for her signature "Silvery Flute", percussion and powerful vocals.
Noeleen plays Bodhran (Irish drum) and guitar. A native Dubliner and youngest of sixteen children, with no TV, they spent many an evening with family singing around the turf fire. Noeleen also sang in the church and busked on the street with friends and even performed on Irish Television (RTE). After losing both parents, Noeleen came to The USA to live with her sisters, and wanted to keep the Celtic songs and Gaelic Language alive. After having a daughter of her own, she instilled the heritage to pass on. When she met Sharon at Albany Medical Center, the newest traditional musical journey began.
Sharon was born into a large musical family and learned traditional folk and Irish music by the fireside. A multi-instrumentalist, she also has played a variety of genres ranging from ancient fyfe and drum to classical, folk and jazz; her favorite remains Celtic. A certified music therapist and practitioner of complementary therapies by day, Sharon always enjoys the story behind the song and strives to pass it down in the old style, so when she met Noeleen a musical bond was formed.